About Us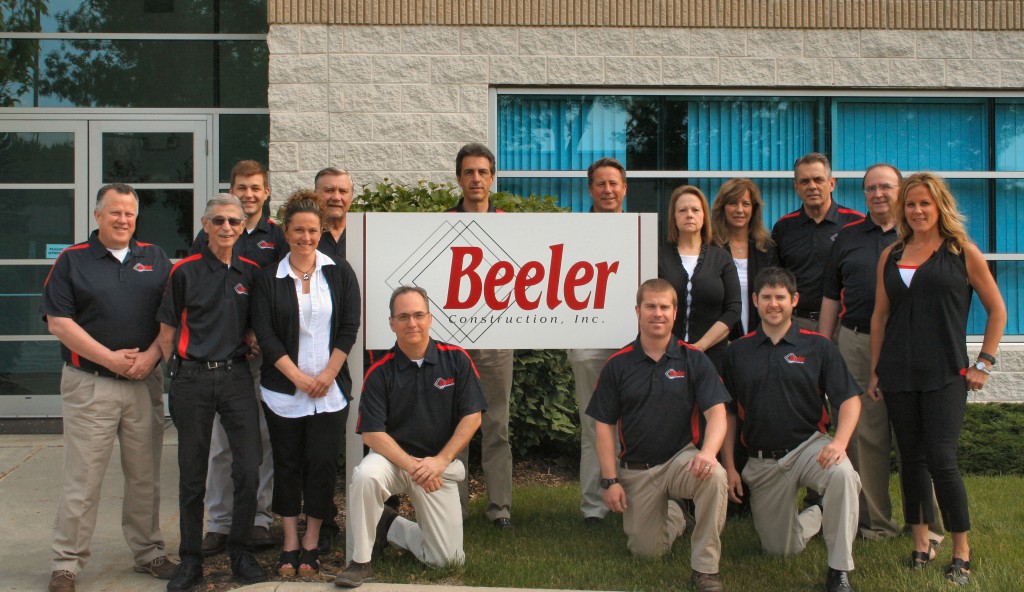 Our mission is to build and sustain lasting partnerships with our customers, employees, subcontractors/material suppliers and the communities in which we service. We help our customers grow and expand their businesses by executing specialized construction projects with the highest quality standards and attention to detail.
Our longstanding employee and subcontractor relationships provide accumulated skills and experience for our complex projects, bringing professionalism, accuracy and cost efficiency to every step of the construction process. From generation to generation, our customers have trusted Beeler Construction, Inc. to meet and exceed their expectations, working in partnership with them to create work spaces that are safe, aesthetically pleasing and efficient. 
Project Approach
Value Engineering
Design/Build
Job Management
Quality
Accurate Estimates
Jobsite Control
Jobsite Safety
Customer Communication
Accounting Policies
Project Completion
Project Approach
Since 1959, Beeler Construction, Inc. (30 years under current name) has steadily built a solid reputation throughout the Midwest for excellence as a General Contractor and Construction Management firm. Our unique value engineering  approach supplements the firm's flagship design/build capabilities in commercial and industrial new construction, remodeling, and emergency repairs.
Beeler Construction, Inc. strives to build and sustain strong relationships while creating quality buildings/renovations. As a result of this customer service focus, our project portfolio consists of 80% repeat business.
Over the years, our customers have entrusted us with their specialized projects, often involving extraordinary technical and logistical challenges. We meet those needs by creating customized teams of trusted employees and subcontractors and then taking ownership of each project from conception through completion.
Continuity, Consistency, Value: The Trusted Components of Quality Construction 
"Our customers know we'll get their projects done and charge a fair price"  
Value Engineering
When reviewing plan documents, we apply value-engineering methods and consider design approaches that may save money and/or time which often identifies better ways to approach a project and improves the overall outcome. Our customers appreciate the opportunity to review these options before construction even begins.
In order to complete this process effectively, early in the process (preferred), we strive to thoroughly understand our customer's needs to give the end results they desire which, in turn, translates into a well-functioning, high quality building/remodel without wasted costs.
Design/Build
We offer design/build services to aid you in obtaining space planning and budgetary estimates. Beeler Construction, Inc. collaborates with a carefully selected group of architects who are qualified to meet your needs and expectations.  Beeler strives to aid in the design of the project with the customer's budget and goals in mind.  This involvement early on often eliminates of having to "go back to the drawing board", after time and money is spent, thus expediting the completion of the project.
Job Management
Many firms boast of working "on time and within budget" but get tripped up on this promise when unanticipated situations creep out of control. Their unfortunate customers find costly "surprises" suddenly disclosed with the closing invoice. Or, they might discover undesired workarounds (passed off as "features") at final walk through.
"At Beeler, we deliver a quality product that goes well beyond the competition's empty boasts – without ugly or painful surprises" 
For over 57 years, we've been delivering the "on time and within budget" promise with a combination of strong teamwork, orderly execution of plans, and professional handling of any unanticipated exceptions. 
How do we manage to consistently deliver?
Teamwork
Quality work begins with quality people. Our teams bring benefit to your budget. It's a point of pride at Beeler Construction, Inc. that we have very little employee turnover. This continuity of experience in our team members enables us to deliver the highest quality in workmanship and creativity. We draw on the specialized skills of our employees, along with a pre-qualified and select pool of experienced subcontractors, to fully meet even your most challenging needs in a timely and cost-efficient manner.
At Beeler Construction, Inc. our direct workforce includes:
Project Managers
Superintendents / Foremen
Carpenters – demolition, wood installations, finish trim work, acoustical ceilings and other specialized construction
To complete a custom team for each project, we supplement our employees by carefully selecting from our trusted group of subcontractors. This group is continually updated according to our subcontractor's past performance and their present project workload.
Quality
We have developed a set of tools and best practices that help us to create "win-win" outcomes from situations encountered during the course of complex construction jobs. We consistently apply these best practices to each step of your project: from design build to estimating, through actual construction and job site management and even beyond completion.  The result is a high quality project that will perform as expected.
Accurate Estimates
We build our estimates based on the depth and breadth of experience that over 57 years in the industry bring to the table. The estimating process can begin already in the conceptual stages and be refined as architectural plans are developed.
Beeler Construction, Inc. utilizes current bid solicitation technology to keep a constant steam of communication regarding addendums, walk-throughs and changes to the bid documents. We also aren't afraid to do things the "old fashioned way" when a project warrants it.  Collecting the subcontractor bids early enough to review their scope and ensure accuracy long before construction starts helps ensure a successful project for all involved. With this practice, we strive to avoid surprises and future unnecessary change orders.
Jobsite Control
All team members are updated regularly on addendums, plan revisions, and issues via a cloud based application, allowing real time transmission of time sensitive media.
Daily superintendent logs are kept, along with as-built copies of plans documenting any changes during construction.
Our superintendents are equipped with Smartphones, Laptops, iPads and digital cameras – eliminating lost time when an issue arises in the field. All parties are in constant communication to review the issues, make the proper adjustments and stay on schedule.
Weekly jobsite meetings are conducted on larger or sensitive projects so that issues can be addressed and solved before they develop into problems.  Meeting notes and project changes/updates are distributed (real time) to all team members including subcontractors, architect and owner.
Through Beeler Construction, Inc.'s jobsite control practices, any issues or discrepancies can be handled properly to keep the project moving.
Jobsite Safety
Our goal is to protect all workers' safety at all times. We make it a priority to keep our jobsites clean and free from injury. Our successful safety program aids us in accomplishing this. We also make regular use of negative air temporary dust wall systems with HEPA filtration, Air Quality Testers and other measures to protect areas that need to remain clean, healthful and productive.
While ensuring safety, we strive to maintain your business' productivity during remodeling projects with little to no negative interruption to your business operations.

Customer Communication
The customer will receive timely progress updates throughout the project lifecycle – we keep you in the "communication loop" as much as desired.
We understand that not only is it important to stay within budget on a project, but also to complete the project in a timely manner. When requested, we digitally provide and maintain a project schedule demonstrating timetables for the various phases of the project. We strive to keep to that schedule by continually reviewing the project progress with the customer, project crew and subcontractors.
Accounting Policies
We utilize current technology to obtain real time executed Subcontracts and Purchase Orders from our Subcontractors and Material Suppliers upon receipt of our Customers formal approval to proceed with the projects.
Progress billings can be submitted on any time schedule. We generally invoice once a month with detailed billings, showing expenses broken down by division using a computer generated form (AIA G703 and G702 are available upon request).
After receiving payment from the customer, lien waivers are collected from all subcontractors before payment is released to them.  We believe that timely subcontractor payments are important.
A list of numerical project scope change orders, if applicable, is tabulated and submitted to the customer with each month's billing if desired. We want the customer to be well aware of all work being completed and how any changes affect the project budget – no surprises… 
Any additional work beyond the original scope that is requested by the customer is addressed immediately.
If the work is requested directly to the jobsite superintendent, he or she completes a "field work order" document and asks the customer to sign it. The form is sent to the office for full documentation and tracking to take place.
If a change is requested to the office, documentation is completed and information is relayed to the jobsite and team members.
Sometimes change order paperwork timing isn't realistic; as to not delay the project, we communicate in person or via trackable email correspondence to fully make aware of all time and money affects they may have on the project.  Formal paperwork to follow.
Project Completion
Upon completing the project on time and within budget, we have a "walk through" with the architect, subcontractors and customer in order to review all work completed. Any punch list items or additional scope requested is recorded and submitted to all involved. We then complete any punch list items and added scope as soon as possible to properly close the job.